Monday, March 12th 2012
Shuttle is working on its newest fanless all-in-one PC, the X50V3. Built with a 15.6-inch touchscreen that feature 1366x768 pixels resolution, the X50V3 measures 39.13 x 32.7 x 4.2 cm, weighing just under 3 kg. It is available in black and white body-color options. It is driven by Intel Atom D2700 dual-core processor (2.13 GHz, HTT), and features two DDR3 SOIMM slots, supporting up to 4 GB of single-channel DDR3-1066 MHz memory. There's provision for one 2.5" SATA SSD/HDD.
Display connectivity is expandable with D-Sub and an HDMI connector, which also gives out multi-channel digital audio. At the helm of graphics is the Intel GMA3650 integrated into the Atom D2700. The chassis embeds a 2 MP web-camera. Other connectivity includes four USB 2.0 ports, a 4-in-1 card reader, gigabit Ethernet, and Wireless b/g/n(150). The X50V3 can be configured to ship with memory, storage, and an OS (Windows or OpenSuSE Linux). There's no word of when the product will officially launch, and at what price.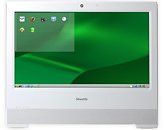 Source: FanlessTech