Tuesday, April 3rd 2012

Intel's upcoming mainstream consumer SSD line, the SSD 330 series, could have attractive pricing, which could catalyze further proliferation of SSD technology, according to a LaptopReviews report, citing tease-listings by online retailers and other sources. The new lineup will embrace SATA rev. 3.0 (6 Gb/s) standard, and offer performance that takes advantage of it. The 120 GB variant of the SSD 330, for example, was listed for US $149, on MacMall.com, the listing is removed. This gives it a price/GB on par with other 120 GB SATA 6 Gb/s SSDs in the market, which underwent several rounds of price-adjustments to get there.
The SSD 330 series from Intel, will be available in three capacities, 60 GB, 120 GB, and 180 GB. The 120 GB and 180 GB variants offer sequential transfer-rates of up to 500 MB/s (read) and 450 MB/s (write); the 60 GB variant offers 500 MB/s (read), and 400 MB/s (write). These drives use IMFlash Technologies-made 25 nm MLC NAND flash, and offer standard feature-set that includes support for TRIM, NCQ, 256-bit AES data-encryption, and limited SMART attributes.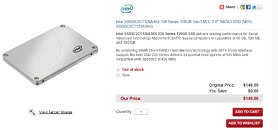 Source:
LaptopReviews