Thursday, September 12th 2013
ASUS has disclosed the details of the ASUS Open Overclocking Cup 2013 final which will be organized with support from Corsair. The AOOC 2013 final will be held in Moscow on October 5, 2013, as part of the Igromir 2013 expo to be hosted by the Crocus Expo Center from October 3 to 6, 2013. The ASUS booth will be located in Pavilion 1, Hall 1 of the Crocus Expo Center.
The ASUS Open Overclocking Cup 2013 final will be attended by the 13 overclocking teams from Europe and the CIS selected in the qualification round and by the winners of AOOC 2012. These are the best of the European overclocking scene, repeatedly placing in the top of HWBot.org with record-breaking results, so we can be sure that they can deliver their best in ASUS Open Overclocking Cup 2013 using components from ASUS Republic of Gamers and Corsair.
ASUS Open Overclocking Cup 2013 Final Schedule
The AOOC 2013 final will take place at the ASUS booth as part of the Igromir 2013 expo on October 5, 2013. The overclockers' day will begin with the opening ceremony at 10:00 and will continue up to the award ceremony at 18:00. The AOOC 2013 Final schedule is as follows:
10:00 - AOOC 2013 opening ceremony
10:00 - 13:00 - Overclocking: 2D tests
13:00 - 17:30 - Overclocking: 3D tests
17:30 - 18:00 - Award ceremony
AOOC 2013 Test Disciplines and Configurations
The overclockers' day of AOOC 2013 will consist of two parts: 2D and 3D. The overclockers will be able to choose one of two 2D benchmarks: maximum CPU frequency overclocking (CPU-Z) or minimum time in Super Pi 32M (at a fixed clock rate of 5500 MHz). In the 3D event, 3DMark Fire Strike Extreme is obligatory for all participants but then they can choose between 3DMark03 and 3DMark11 Performance. Three results will contribute to the final score: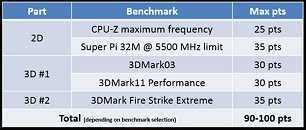 To reach maximum results every team will be provided top-end components from ASUS, Corsair and Intel. The setup will be based on the ASUS Maximus VI Extreme motherboard, which has proved its overclocking worth, by numerous world records. Corsair will provide 2800 MHz Corsair Vengeance Pro memory kits that are known to be able to work at frequencies above 4 GHz.
Each team will earn points for its results. The team to have the highest overall score will become the new ASUS Open Overclocking Cup champion. Besides the honors, each participating team will be awarded two ASUS Maximus VI Extreme mainboards and two ASUS GTX 780 DirectCU II graphics cards whereas the top 3 teams will compete for a prize fund of $5000 and will be additionally awarded with an Intel Core i7-4770K and a Corsair Vengeance Pro 2800MHz memory kit. ASUS Open Overclocking Cup 2013 will be refereed by the world-famous overclockers Semjons "TaPaKaH" Avdejevs and Petri "SF3D" Korhonen.