Monday, June 18th 2018
Just a while ago the first 4K 144 Hz monitors became available with the ASUS PG27UQ and Acer X27. These $2,000 monitors no longer force gamers to pick between high-refresh rate or high resolution, since they support 3840x2160 and refresh rates up to 144 Hz. However, reviews of early-adopters report a noticeable degradation in image quality when these monitors are running at 144 Hz. Surprisingly refresh rates of 120 Hz and below look perfectly sharp.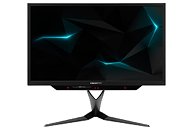 The underlying reason for that is the DisplayPort 1.4 interface, which provides 26 Gbits/s of bandwidth, just enough for full 4K at 120 Hz. So monitor vendors had to get creative to achieve the magic 144 Hz that they were shooting for. The solution comes from old television technology in form of chroma subsampling (YCbCr), which, in the case of these monitors, transmits the grayscale portion of the image at full resolution (3840x2160) and the color information at half the horizontal resolution (1920x2160).
This approach is called 4:2:2 and works particularly well for the movie industry, where it is pretty much standard to ship the post-processed content to cinemas and TV using subsampling of 4:2:0 or 4:1:1. For computer generated content like text and the operating system interface, chroma subsampling has a serious effect on quality, especially text-readability, which is why it is not used here at all. In games chroma sub-sampling might be an acceptable approach, with negligible quality effects on the 3D game world, and slightly loss of sharpness for the HUD.
The images below describe how chroma subsampling works and how it affects image quality. Note how high-contrast edges look noticeably worse while low-constrast surfaces look nearly identical.
Technical solutions that can avoid subsampling include HDMI 2.1 and DisplayPort's DSC data compression scheme. HDMI 2.1, was just specified in December last year, so controller vendors are just figuring out how to implement it, which means it is still far away from getting used in actual monitors. DisplayPort 1.4 introduced DSC (Display Stream Compression), which is particularly optimized for this task. Even though it is not completely lossless compression, its quality is much better than chroma subsampling. The issue here seems that not a lot of display controller support exists for DSC at this time.
Given that there is not a lot of difference between 120 Hz and 144 Hz gaming, the best approach to get highest visual quality is to run these monitors at up to 120 Hz only, where they will send the full unmodified RGB image over the wire. Source:
Reddit