Tuesday, September 14th 2021
According to Nikkei, TSMC is set to start building a new fab in Kaohsiung, which is Taiwan's third largest city and located in the south of the island. It's also where ASE Technology Holding is located, which is the world's largest chip packaging and testing contractor. So far, TSMC doesn't have any fabs this far south in Taiwan, but it's not without its challenges.
The new fab is said to be designed to build chips on TSMC's 6 and 7 nm nodes, which are currently their most popular nodes, although this is likely to change as their 5 nm node begins to ramp up production. That said, there will still continue to be a huge demand for 6 and 7 nm parts, as these nodes transition to become mainstream production nodes.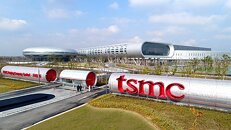 This move might in part be due to pressure from the US for TSMC to reduce its investment in China, where the company was expanding at its plant in Nanjing. However, taking last year's drought into account, with Kaohsiung being one of the hardest hit areas, as well as being the third most populous area of Taiwan, water supplies are going to be a key area where TSMC is going to have to make additional investments.

The new fab is said to begin operations some time in 2023 or 2024, so it's not going to have any impact on the current chip supply issues. The factory is expected to be located on a 169.5 hectare plot of land that previously belonged to the government owned CPC corporation, which operated a naphtha cracking plant there.

Sources: Nikkei, via Taiwan News