Tuesday, October 12th 2021

Intel's VP and GM of Client Graphics Products and Solutions Roger Chandler has recently confirmed in an interview with Gadgets 360 that the companies upcoming Arc Alchemist desktop graphics cards will not ship with any software or hardware cryptocurrency mining inhibitors. Roger Chandler didn't rule out the possibility of Intel implementing such a lock in the future simply stating that it is not a priority for the company. Intel SVP and GM of Accelerated Computing Systems and Graphics Raja Koduri also noted that they cannot guarantee sufficient supply will be available to meet consumer demand. These graphics cards are not expected to be released until Q2 2022 with mobile versions coming earlier in Q1 so we cannot be sure how they will affect availability and pricing for the general GPU market. The full interview which also covers reference board designs, workstation products, and XeSS super-resolution technology can be found at the link below.
Roger ChandlerAs far as like software lockouts and things of that nature, we're not designing this product or building any features at this point that specifically target miners. As far as actions we're taking to avoid or lock them out, it's a product that will be in the market and people will be able to buy it. It's not a priority for us.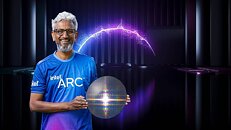 Source: Gadgets 360