Monday, March 14th 2022
AMD is scheduled to hold an event discussing "Next-Generation Image Upscaling for Games" at the Game Developers Conference on March 23. The event only includes a brief description that "AMD will present some of the results of their research in the domain of next-generation image upscaling technology" but the developer of CapFrameX has recently claimed to see footage from FidelityFX Super Resolution (FSR) 2.0 so AMD may be preparing to announce the technology imminently.
The developer claims that FSR 2.0 switches to a temporal upscaling approach with optimized anti-aliasing that doesn't require AI acceleration unlike DLSS & XeSS meaning that it can work with GPUs from multiple vendors. The technology can also allegedly improve image quality beyond native resolution but we will need to wait for the official announcement and reviews before reaching any conclusions.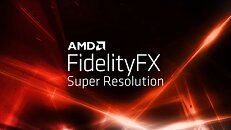 Sources: GDC, @CapFrameX