Wednesday, June 22nd 2022

Although Intel's 13th generation of Core CPUs—codenamed Raptor Lake—aren't expected to launch until sometime in September or October this year, details of some of ASRock's motherboards for the new CPUs have leaked. ASRock is preparing to launch at least nine Z790 and three H770 motherboards, of which at least four will have support for DDR4 memory, according to VideoCardz. The list is missing a flagship Aqua model, but contains Taichi, Pro RS, Phantom Gaming Lightning and Riptide models, as well as a Steel Legend H770 boards and a couple of -C models, which are likely budget boards, despite being based on the Z790 chipset.
There will be a microATX Phantom Gaming Lighting board with DDR4 and a Phantom Gaming Riptide model with DDR5 support. So far no other features have been reported and from our understanding, the Z790 won't differ hugely from the Z690 chipset. The extra PCIe lanes from the 13th gen Core CPUs are expected to support PCIe 5.0 this time around, which will allow for faster NVMe based M.2 drives to be used. Intel is not planning on integrating Thunderbolt 4 support in these CPUs based on available information.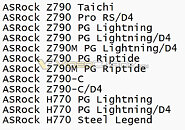 Source: VideoCardz