Tuesday, March 7th 2017

AMD today unveiled the "Naples" enterprise processor, and it is big. The chip could mark AMD's return to competitive enterprise CPUs after years. The first "Naples" based part has some staggering specifications - 32 CPU cores spread across eight CCX units, SMT enabling 64 threads, an octa-channel (yes, eight channels) DDR4 integrated memory controller, an industry-leading 64-lane PCI-Express gen 3.0 root complex, and AMD's new Infinity Fabric interconnect, which lets it talk to the neighboring CPU, in a 2P system. The IMC supports up to 2 TB of memory.
AMD will competitively price "Naples" against Intel's Xeon E5-2600 series 2P chips, offering more cores, wider memory interfaces, more memory support, and more PCIe lanes. AMD will tap into the good energy-efficiency of its "Zen" architecture to clock these chips competitively higher than Intel chips, to churn out more overall performance. AMD is scheduled to launch the first processors based on the "Naples" silicon, within Q2-2017.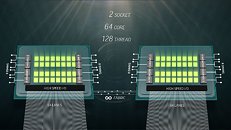 "Today marks the first major milestone in AMD re-asserting its position as an innovator in the datacenter and returning choice to customers in high-performance server CPUs," said Forrest Norrod, senior vice president and general manager, Enterprise, Embedded and Semi-Custom business unit, AMD. "'Naples' represents a completely new approach to supporting the massive processing requirements of the modern datacenter. This groundbreaking system-on-chip delivers the unique high-performance features required to address highly virtualized environments, massive data sets and new, emerging workloads."