Monday, December 31st 2018

It was about 6 months ago that we posted
a news story
about how a Lenovo representative mentioned that the successor to NVIDIA's GeForce 10-series of GPUs would be named the 11-series. Fast forward in time, we know how that turned out with the recently announced RTX 20-series instead. The rumor mill has not taken a break over the holidays, however, with consistent postings and speculation online about how NVIDIA will announce not only the RTX 2060 at CES 2019, but also a whole new GTX 11-series accompanying it that is aimed to meet gaming needs without real-time ray tracing support and at a lower price point respective to the equivalent RTX SKU.
Perhaps it is fitting that Lenovo provides more fuel to this fire once again, with a listing of a mobile GeForce GTX 1160 (N18E) graphic solution on their upcoming Legion Y530 and Y7000P laptops. VideoCardz.com was quick to capture a screenshot of the specs listing, seen below, that describes it as a "next generation GPU", albeit with an asterisk hinting that the specification may not be final. Indeed, Lenovo has since changed the description on
that product page
to remove all signs of said 11-series mobile GPUs, and the
LaptopMedia specs database
for the Legion Y530 also now mentions a "GTX 2060" with 6 GB of VRAM instead. The only thing we know for sure is that we are not sure of anything, and it may well be that a GeForce 11-series, if it even exists, is a mobile-only platform. Hopefully CES will shed more light on this matter, and stay tuned for our coverage of the event accordingly.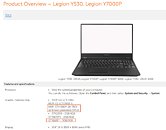 Source: VideoCardz.com