Tuesday, November 23rd 2021

AMD is preparing to wrap up its Radeon RX 6000 series desktop discrete graphics card family with two new SKUs, the RX 6500 XT and the RX 6400. The two debut the company's smallest piece of silicon based on the RDNA2 graphics architecture, codenamed "Navi 24," to the desktop space. The RX 6500 XT maxes out this silicon, enabling all 16 compute units physically present, working out to 1,024 stream processors. The RX 6400 is significantly cut down, featuring 12 out of 16 CUs, which means 768 stream processors.
The Navi 24 silicon features a 64-bit wide GDDR6 memory interface, which is paired with 4 GB of discrete memory on both SKUs. This memory operates at 14 Gbps data-rate, which works out to 112 GB/s memory bandwidth. Interestingly, the Infinity Cache makes a comeback, in the form of a tiny 16 MB on-die cache that cushions the memory sub-system. The RX 6500 XT could have just enough muscle for e-sports gaming at 1080p, while the RX 6400 seems more like a card you'd buy just because your processor lacks integrated graphics (eg: if you're using a Ryzen 5000X processor and just need a graphics solution that meets the latest display I/O and media-acceleration standards). At this point we don't know if the Navi 24 is DirectX 12 Ultimate compliant, i.e., featuring Ray Accelerators on its compute units. Both cards are expected to launch in Q1, 2022.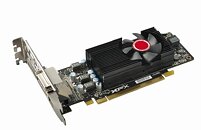 Source: VideoCardz