Monday, November 21st 2016

Early 2017, a new wave of socket LGA1151 motherboards based on Intel 200-series chipset will launch, alongside the company's 7th generation Core "Kaby Lake" processors. The lineup will be led by the Z270 Express, targeting performance desktops, and H270 Express, targeting premium commercial desktops. The question on your mind probably is what sets these chipsets apart from the current 100-series Z170 and H170 chipsets. Here are some pointers.
To begin with, motherboards based on Z270 and H270 chipsets are assured to support Core "Kaby Lake" processors, out of the box. The 100-series chipset motherboards inventory with retailers may require BIOS updates, although some of the newer production batches could ship with the latest BIOS that support "Kaby Lake." Secondly, the Z270 and H270 support Intel Optane technology, a new breed of bleeding-edge performance SSDs based on the company's 3D X-point non-volatile memory, which is the very latest in sold-state storage, and purported to be the fastest. The chipets also support Rapid Storage Technology v15.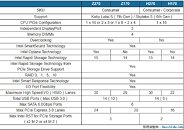 Thirdly, and this could be of more relevance to PC enthusiasts, the 200-series chipsets have more downstream (general purpose) PCI-Express gen 3.0 lanes. The chipsets have 14 downstream PCIe lanes; compared to 10 on the 100-series chipsets. The LGA1151 processor has 16 PCI-Express gen 3.0 lanes it sets aside for graphics, and four lanes that go to the chipset as physical layer of the DMI 3.0 chipset bus. This means motherboard designers can cram in additional bandwidth-heavy onboard devices such as Thunderbolt and USB 3.1 controllers; additional M.2 slots, or just more PCIe slots with greater than x1 bandwidth. This takes the platform's total PCIe lane budget to 30, compared to 26 on the 100-series chipset motherboards.
What sets the Z270 apart from the H270 are the same things that set the Z170 apart from the H170. The Z270 supports CPU overclocking and multi-GPU by splitting the PCI-Express 3.0 x16 PEG port from the CPU into two PCI-Express 3.0 x8 slots using 3-way lane switches. The H170 lacks CPU overclocking and multi-GPU support. You should still be able to use a pair of AMD Radeon graphics cards on the H270/H170 by running the second card on the PCI-Express x16 (electrical x4) slots some motherboards feature, since AMD drivers support this; although the performance won't be optimal, as the second card will become a strain on the DMI chipset bus. Source:
BenchLife.info