Wednesday, September 26th 2018
If you had told me this time last year that Valve of all companies would be peeling away secrecy layers galore, I would have laughed in your face. As it turns out, Valve is doing just that in an attempt to dissuade fears after Steam's API changed earlier this year making services such as SteamSpy less informative and useful to the public. Their latest blog post on Steam shares user details on controllers, given PC gamers have enjoyed the flexibility to use the beloved keyboard + mouse combo or go with controllers from console makers, or 3rd-party alike. As it stands, there are a lot of things to see here too.
To begin with, there have been over 30 million user accounts to register the use of a controller since 2015, of whom over 15 million have used two or more controllers. With shared and multiple accounts to consider in addition, Valve estimates as many as 60 million accounts to have a controller paired up in the last three years. Seen below is a pie chart showing the distribution of use of various different controllers, and the Xbox 360 controller reigns supreme here with over 27 million account pairings of the device (45% share). The Xbox One controller comes in next, and Valve's own Steam Controller fares decent with over 1 million pairings. More to follow past the break.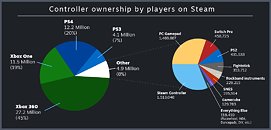 Interestingly, over a hundred thousand people have managed to register the Gamecube controller too. That aside, the other usual suspects find a mention here with the PS4 controller and also the Nintendo Switch Pro controller. As such, nearly 92% of all controllers are direct console controllers used with PC drivers, with the other 8% including the lesser seen options including dancepads and fightsticks.
Of note also is the distribution of controllers used actively, with the column chart below representing data from August, 2018. Here, things change significantly for some with the newer Xbox One controller showing to be the most actively used controller on Steam today and the even-newer Switch Pro controller proving to be a very popular peripheral as well- especially after Steam update enabling full support as seen below. The PS3 and PS4 controllers lag behind here, but seeing them presently used at all is a nice surprise given they have historically not played well with the PC. It goes to show the strong effect had by the addition of native driver support to these controllers on Steam late 2016.
The current dataset estimates that an Xbox One controller will meet the needs of nearly 65% of all Steam users if they wish to use a controller, but there remain a massive chunk leftover with games that simply can't use said controller. Indeed, they are forecasting future control methods that go beyond the norm or bring back to popularity items that no longer are (Rockband-style instruments, for example). Then there is the VR elephant in that virtual room which brings up the need to support motion controls, and also devices to cater to mixed-reality environments. There are definitely challenges ahead for Valve, and also other players in the PC realm given how fragmented we are getting with newer game launchers coming up, but there is no doubt that the PC remains the most flexible platform for HID peripherals today.

Source: Valve