Monday, November 23rd 2020
CD Projekt RED released updated PC system requirements lists for "Cyberpunk 2077," which will hopefully release before the year 2077. There are a total of seven user experience grades, split into conventional raster 3D graphics, and with raytracing enabled. The bare minimum calls for at least a GeForce GTX 780 or Radeon RX 480; 8 GB of RAM, Core i3 "Sandy Bridge" or AMD FX "Bulldozer," and 64-bit Windows 7. The 1080 High grade needs at least a Core i7 "Haswell" or Ryzen 3 "Raven Ridge" processor, 12 GB of RAM, GTX 1060 6 GB or GTX 1660 Super or RX 590 graphics. The 1440p Ultra grade needs the same CPUs as 1080p High, but with steeper GPU requirements of at least an RTX 2060 or RX 5700 XT.
The highest sans-RT grade, 4K UHD Ultra, needs either the fastest i7-4790 "Haswell" or Ryzen 5 "Zen 2" processor, RTX 2080 Super or RTX 3070, or Radeon RX 6800 graphics. Things get interesting with the three lists for raytraced experience. 1080p Medium raytraced needs at least an RTX 2060; 1440p High raytraced needs an RTX 3070, and 4K UHD Ultra raytraced needs at least a Core i7 "Skylake" or Ryzen 5 "Zen 2" chip, and RTX 3080 graphics. All three raytraced presets need 16 GB of RAM. Storage requirements across the board are 70 GB, and CDPR recommends the use of an SSD. What's interesting here is that neither the RX 6800 nor RX 6800 XT make it to the raytraced list (despite the RX 6800 finding mention in the non-raytraced lists). PC Gamer reports that Cyberpunk 2077 will not enable raytracing on Radeon RX 6800 series at launch. CDPR, however, confirmed that it is working with AMD to optimize the game for RDNA2, and should enable raytracing "soon."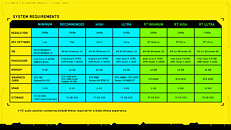 Sources: Cyberpunk 2077 (Twitter), PC Gamer