Monday, November 22nd 2021
With ever increasing computational needs from TV SoCs, as we're moving towards higher resolutions and refresh rates, MediaTek is getting ready for the next generation of 8K TVs with its new Pentonic 2000 SoC. This is the world's first TV SoC to support the new H.266 video codec standard, which is an evolution of the H.265 intended for 8K content.
The Pentonic 2000 is fabbed using TSMC's N7 node and it's the first commercial TV SoC to be made on this manufacturing process according to MediaTek. The SoC supports 8K resolution content at up to 120 Hz with MEMC (Motion Estimation, Motion Compensation) and has an integrated AI engine to help improve scaling from lower resolutions. MediaTek also claims that the Pentonic 2000 features the "industry's most powerful CPU and GPU" in a smart TV SoC, without giving away any actual details, although it the SoC does support UFS 3.1 storage, which suggests that we're looking at a recent Arm Cortex-A7x based SoC at the very least.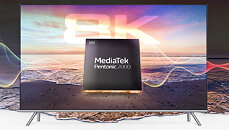 Outside of H.266 support - also known as VVC (Versatile Video Coding) - the Pentonic 2000 will decode AV1 which has become the defacto standard for Netflix and many other streaming services, H.265, VP9, AVS3 and most likely also many older codecs. MediaTek has also added support for WiFi 6E, 5G as an option and obviously HDMI 2.1 to the Pentonic 2000. As you would expect, there's also support for voice control with support for up to four directional microphones, although MediaTek doesn't specify which voice assistants that are supported. Another party trick on offer is 16-screen picture-in-picture support, although this seems more useful for some commercial applications than watching multiple shows at once. Don't expect TV makers to be touting the fact that they're using the Pentonic 2000 in their TV's next year though, as they're likely to call it something else, or not mention it all.

Source: MediaTek