Monday, April 6th 2020
China's state-backed SMIC (Semiconductor Manufacturing International Corporation) has set an ambitious target of Q4-2020 for its 7 nanometer-class N+1 foundry node to go live, achieving "small scale production," according to a cnTechPost report. The company has a lot of weight on its shoulders as geopolitical hostility between the U.S. and China threatens to derail the country's plans to dominate 5G technology markets around the world. The SMIC N+1 node is designed to improve performance by 20%, reduce chip power consumption by 57%, reduce logic area by 63%, and reduce SoC area by 55%, in comparison to the SMIC's 14 nm FinFET node, Chinese press reports citing a statement from SMIC's co-CEO Dr. Liang Mengsong.
Dr. Liang confirmed that the N+1 7 nm node and its immediate successor will not use EUV lithography. N+1 will receive a refinement in the form of N+2, with modest chip power consumption improvement goals compared to N+1. This is similar to SMIC's 12 nm FinFET node being a refinement of its 14 nm FinFET node. Later down its lifecycle, once the company has got a handle of its EUV lithography equipment, N+2 could receive various photomasks, including a switch to EUV at scale.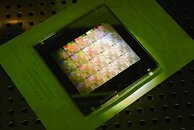 SMIC is at the receiving end of increased investment. Despite a revenue of $3 billion in 2019, its capital expenditure is expected to reach $3.1 billion this year, as the company sets up a new 12-inch wafer fab in Shanghai for $2 billion, and invests a further $500 million to add 12-inch capacity to its Beijing fab. The Chinese semiconductor industry is racing against time to provide the likes of Huawei with viable alternatives to cutting-edge foreign fabs like Samsung and TSMC. New U.S. regulation

disrupting

Huawei's access to TSMC will only accelerate development of sub-10 nm nodes at mainland Chinese companies like SMIC.

Sources: cnTechPost, WCCFTech