Wednesday, March 25th 2015
OCZ Storage Solutions -- a Toshiba Group Company and leading provider of high-performance solid-state drives (SSDs) for computing devices and systems, today announced a new series of SATA III SSDs to add to its Intrepid 3000 enterprise portfolio. The new Intrepid 3700 SSD Series delivers superior performance and I/O latency responses that dramatically improve application performance and I/O efficiencies, and supports higher storage densities up to 2TB representing OCZ's largest capacity enterprise SATA SSDs to date.
"Datacenter customers have asked for larger solid state drives that do not make any sacrifices in performance or endurance to address the need to manage the ever growing amounts of data being generated by today's computing environments," said Daryl Lang, CTO at OCZ Storage Solutions. "Our new Intrepid 3700 Series is designed to meet these market requirements for an easy to deploy solid state solution that delivers the very best balance of features, endurance, and capacity."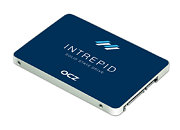 The Intrepid 3700 Series is available in four models supporting 240GB, 480GB, 960GB and 1,920GB usable storage capacities and utilizes the latest Toshiba A19 nm NAND flash. Each model is driven by OCZ's Everest 2 controller platform which includes an optimized firmware architecture and advanced flash management that efficiently manages all housekeeping routines (such as garbage collection and wear-leveling) which enables the Intrepid 3700 Series SSDs to maintain performance over the long term.
In a steady state condition the Intrepid 3700 series delivers excellent performance for both large block sequential operations, as well as small block random operations. This includes up to 540 MB/s for sequential reads (128KB blocks), 470 MB/s for sequential writes (128KB blocks), 91,000 input/output operations per second (IOPS) for random reads (4KB blocks) and 13,000 IOPS for random writes (4KB blocks).
To round out its enterprise-class feature-set, the new Intrepid 3700 Series includes an advanced suite of endurance and reliability tools designed to extend NAND flash memory life and deliver those capabilities required by today's datacenter managers. This includes:
Error correction coding (ECC) that effectively corrects errors while significantly reducing the uncorrectable bit error rate (UBER);
End-to-end data path protection that performs data integrity checks at every juncture where data is transmitted, received, processed and stored;
Power Loss Protection (PLP) that prevents data loss in the event of a power failure guaranteeing that the in-progress write operations complete and data is properly stored;
Internal SSD RAID that duplicates all data stored so if there are flash errors a back-up exists providing additional data safeguards.
The Intrepid 3700 Series supports the industry standard 2.5-inch form factor, utilizes premium NAND flash, and guarantees up to one complete DWPD for 5 years. It is ideally suited for such read-intensive applications as online archiving, media streaming, video on demand (VOD), virtual desktop infrastructure (VDI) and web browsing applications, to name a few.
All Intrepid 3700 Series models will be available through OCZ's global channel of authorized enterprise solution resellers.
For more information, visit the
product page
.