Monday, September 27th 2010
Here is the slide we've been waiting for, the specs sheet of AMD's next-generation Radeon HD 6700 series GPUs, based on a new, radically redesigned core, codenamed "Barts". The XT variant denotes Radeon HD 6770, and Pro denotes HD 6750. AMD claims that the HD 6700 series will pack "Twice the Horsepower", over previous generation HD 5700 series. Compared to the "Juniper" die that went into making the Radeon HD 5700 series, Barts features twice the memory bandwidth thanks to its 256-bit wide high-speed memory interface, key components such as the SIMD arrays split into two blocks (like on Cypress), and we're now getting to learn that it uses a more efficient 4-D stream processor design. There are 1280 stream processors available to the HD 6770 (Barts XT), and 1120 stream processors to the HD 6750 (Barts Pro). Both SKUs use the full 256-bit memory bus width.
The most interesting specification here is the shader compute power. Barts XT churns out 2.3 TFLOP/s with 1280 stream processors, GPU clocked at 900 MHz, while the Radeon HD 5870 manages 2.72 TFLOP/s with 1600 stream processors, 850 MHz. So indeed the redesigned SIMD core is working its magic. Z/Stencil performance also shot up more than 100% over the Radeon HD 5700 series. Both the HD 6770 and HD 6750 will be equipped with 5 GT/s memory chips, at least on the reference-design cards, which are technically capable of running at 1250 MHz (5 GHz effective), though are clocked at 1050 MHz (4.20 GHz effective) on HD 6770, and 1000 MHz (4 GHz effective) on HD 6750. Although these design changes will inevitably result in a larger die compared to Juniper, it could still be smaller than Cypress, and hence, more energy-efficient.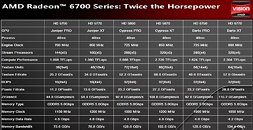 Source: PCinLife