Wednesday, March 14th 2012
Even as Elpida has filed for bankruptcy protection and is dealing with restructuring, its disposal of a subsidiary Taiwan-based DRAM foundry Rexchip will impact DRAM supply and pricing, sources told DigiTimes. Rexchip has a monthly foundry capacity of 800,000 12-inch wafers and uses 65,000 wafers currently. Elpida has just finished development of 25 nm DRAM technology, which gives it competitiveness over other DRAM majors, Samsung Electronics and SK-Hynix.
As
analyzed
in an older report, should Elpida's restructuring take a turn for the worse, leading to an exit from the DRAM industry, it could have huge consequences on the competitive environment of the industry. DigiTimes currently reports that DRAM prices are slowly, but surely creeping back up. DRAM contract prices for March have risen 5.7% on average, the prices of 4 GB DDR3 modules have gone as high as US $18.75, with average prices of $18.50.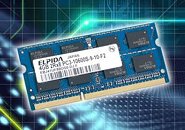 Source:
DigiTimes