Wednesday, April 11th 2018
Semiconductor manufacturers have been historically bullish when it comes to the introduction of new manufacturing technologies. Intel, AMD (and then Globalfoundries), TSMC, all are companies who thrive in investors' confidence: they want to paint the prettiest picture they can in terms of advancements and research leadership, because that's what attracts investment, and increased share value, and thus, increased funds to actually reach those optimistic goals.
However, we've seen in recent years how mighty Intel itself has fallen prey to unforeseen complications when it comes to advancements of its manufacturing processes, which saw us go from a "tick-tock" cadence of new architecture - new manufacturing process, to the introduction of 14 nm ++ processes. And as Intel, Globalfoundries and TSMC race towards sub 7-nm manufacturing processes with 250 mm wafers and EUV usage, things aren't getting as rosy as the ultraviolet moniker would make us believe.
These are cropping up at critical dimensions around 15 nm, needed to make 5 nm chips for foundry processes (which were targeting 2020 for actual production). EUV-machine maker
ASML
is now reportedly preparing a new, next-generation EUV system that actually deals with these finer printing defects - but those systems aren't expected to be available until 2024.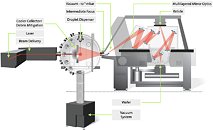 There's just another slight quibble with the whole new EUV production process, though: the base physics behind it. The fact remains that researchers and engineers still don't understand exactly what interactions are relevant, and occurring, in the etching of these so extremely fine patterns with EUV lighting. You'd expect some unforeseen problems arising, then, and the need for further study, trial and error, and iteration, just to understand those interactions that end up affecting final wafer quality. There goes the 2020 window, it seems.

Source: EETimes Asia