Friday, May 24th 2013
After bagging chip supply deals for all three new-generation consoles -- Xbox One, PlayStation 4, and Wii U, things are looking up for AMD. While Wii U uses older-generation hardware technologies, Xbox One and PlayStation 4 use the very latest AMD has to offer -- "Jaguar" 64-bit x86 CPU micro-architecture, and Graphics CoreNext GPU architecture. Chips that run the two consoles have a lot in common, but also a few less-than-subtle differences.
PlayStation 4 chip, which came to light this February, is truly an engineer's fantasy. It combines eight "Jaguar" 64-bit x86 cores clocked at 1.60 GHz, with a fairly well spec'd Radeon GPU, which features 1,156 stream processors, 32 ROPs; and a 256-bit wide unified GDDR5 memory interface, clocked at 5.50 GHz. At these speeds, the system gets a memory bandwidth of 176 GB/s. Memory isn't handled like UMA (unified memory architecture), there's no partition between system- and graphics-memory. The two are treated as items on the same 8 GB of memory, and either can use up a majority of it.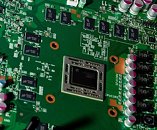 Xbox One chip is a slightly different beast. It uses the same eight "Jaguar" 1.60 GHz cores, but a slightly smaller Radeon GPU that packs 768 stream processors, and a quad-channel DDR3-2133 MHz memory interface, which offers a memory bandwidth of 68.3 GB/s, and holding 8 GB of memory. Memory between the two subsystems are shared in a similar way to PlayStation 4, with one small difference. Xbox One chip uses a large 32 MB SRAM cache, which operates at 102 GB/s, but at infinitesimally lower latency than GDDR5. This cache cushions data-transfers for the GPU. Microsoft engineers are spinning this off as "200 GB/s of memory bandwidth," by somehow clubbing bandwidths of the various memory types in the system.

The two consoles also differ with software. While PlayStation 4 runs a Unix-derived operating system with OpenGL 4.2 API, Xbox One uses software developers are more familiar with -- a 64-bit Windows NT 6.x kernel-based operating system, running DirectX 11 API. Despite these differences, the chips on the two consoles should greatly reduce multi-platform production costs for game studios, as the two consoles together have a lot in common with PC.

Source: Heise.de